Last night Yho ask we something,
Yho - "You know something about Vampire Diaries?"
Me - "Dono. Why?"
then I google this vampire diaries, watch the image from Google and later realize that Vampire Diaries is a novel by L.J. Smith. But now, this thriller teenage novel have been adapted into a TV series that when aired on 10 September 2009 (Season 1, Episode 1). More to it, I was intrigued on watching this series and then Yho mention something important. Something that make me wanna see this more...
Yho - "PPStream got Vampire Diaries"
WooHoo..!!!! I was happy and excited. One more series to watch, add into a whole bunch of other series that I watch here with Yho (Heroes, Survivor, The Amazing Race)...
if u guys ever walk in a bookstore (Popular or MPH), you may notice the cover page of The Vampire Diaries like the above examples. I remember seeing one in MPH, Kuching.
So today, Yho and I watch Vampire Diaries until episode 3 and it was awesome and good... Vampire Diaries is almost resembles Twilight without the boring vampire, cross over with a little bit of Smallville essence and added in some 90210 dramas.... I think Vampire Diaries is a bit better than Twilight (sorry for all the Twilight die-hard fans out there)... One more thing that I like about this series is the cast...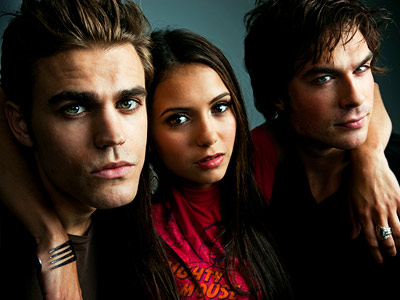 Meet the cast:
Stefan Salvatore played by Paul Wesley, Elena Gilbert played by Nina Dobrev and Damon Salvatore played by Ian Somerhalder...
a short sypnosis of Vampire Diaries:
The Vampire Diaries
is a
young adult
horror
series of novels written by the
NYT Bestselling
author of the
Night World
series,
L. J. Smith
. The story centers around Elena Gilbert, a high school girl torn between two vampire brothers. The series was originally a trilogy published in 1991. However, pressure from readers led the author to write a fourth volume,
Dark Reunion
, released in 1992.
After taking a hiatus from writing for several years, L. J. Smith announced in 1998 a new spin-off trilogy entitled The Vampire Diaries: The Return, continuing the series, with Damon being the main protagonist. The first installment, The Return: Nightfall, was released on February 10, 2001. The Return: Shadow Souls and The Return: Midnight are tentatively slated for release in April, 2010 and 2011 respectively.
The Vampire Diaries has been adapted into a television series and premiered on September 10, 2009 on The CW.
taken from wikipedia... LOL
this is Stefan Salvatore... the little vampire brother and he's in love with Elena Gilbert... He's currently trying to avoid his hunger for human blood. You can say he's the good guy so far in this series... been living for 145 years, super fast, super strong, regeneration and all sort of stuffs that we thing vampires are able to do.... played by Paul Wesley. More on Paul Wesley, clicked
here
..
this is Elena Gilbert... the love interest of Stefan Salvatore... a cheerleader than she quite as she has no more interest in cheer-leading.... she is still sad for the lost of her parent and currently living with Aunt Jenna and brother, Jeremy Gilbert... She also have shown some interest on Stefan but feel there's something dark about both Salvatore's brother.... played by Nina Dobrev... she is so beautiful and sexy and the best thing is she's 20 years old... I'm in love with her... More on Nina Dobrev, clicked
here
...
and this is Damon Salvatore, big brother of Stefan Salvatore... the bad guy in this series so far... he is evil, he feed on human blood and very powerful compare to his brother.... he even have special powers such as controlling the crows and the mist (he literally said it, haven't seen the power yet).... once in love with a girl, Katherine who resembles Elena physically... played by Ian Somerhalder... More on Ian Somerhalder, click
here
...
enough with this... I want to continue watching... you guys should do the same... LATERS...